Blog Archives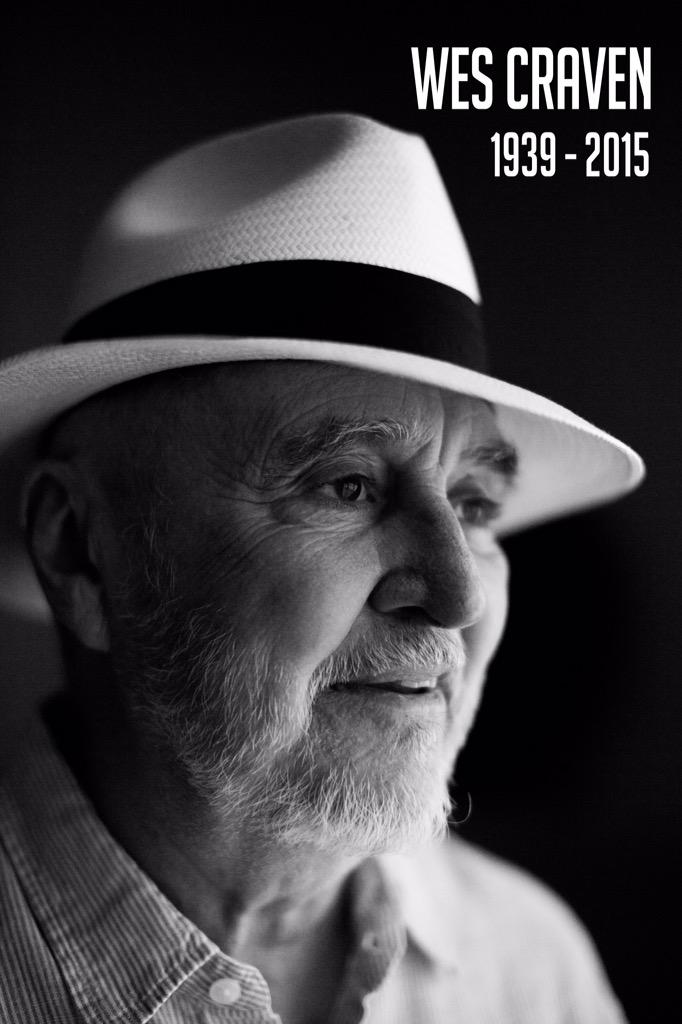 The first time I saw the name Wes Craven, it was in TV Guide, around 1986. It was in the synopsis for A Nightmare on Elm Street, which read something like, "Horror maven Wes Craven's tale of teenagers terrorized by a killer in their dreams." The fuckers gave it two stars if I recall. In the following years, his name popped up on TV more, usually for commercials of his follow-up movies: "From the creator of A Nightmare on Elm Street, Wes Craven, comes…" Shocker. The People Under the Stairs. The Serpent and the Rainbow. As I found and read Fangoria, and other stuff about horror, I learned more about him, but it really wasn't until I was in high school and I saw interviews with Craven that I learned really learned about him.
When I saw the news of his death last night, I was rocked. It came on the night before I was to start a new school year as Mr. Gauthier, so maybe I wasn't as rocked as I may have been two weeks ago, when I wasn't as stressed. Still, it was a shock and very, very sad.
I can't say I've seen every Wes Craven movie because I haven't. I feel like I only saw the original The Last House on the Left in the last eight years. I saw The Hills Have Eyes sometime in the mid-1990s. I saw Shocker and The People Under the Stairs when they first came to cable. I know I saw The Serpent and the Rainbow but can't remember when, though I think I was in high school. Deadly Friend was viewed not long after seeing A Nightmare on Elm Street the first time, but I didn't know who Wes Craven was and it was on cable as I was discovering horror. I barely remember any of these movies except the first two. Have I seen Swamp Thing? I don't know. I've definitely seen pieces of it, just as I've seen pieces of A Vampire in Brooklyn.
Truth be told, I'm really quite astonished that I haven't seen more of his movies. I really only know his creating and contributions to the A Nightmare on Elm Street series and directing the Scream movies. This upsets me.
Craven has been someone I would've loved to have met. When I found out he bought a house on Martha's Vineyard, a ferry ride away from where I live, I sometimes thought it might be cool to run into him somewhere, let him know how much he meant to me, and ask if he'd have coffee with me. I know it's crazy talk, like a deranged stalker or something, but Craven had this feel about him that he was approachable and would sit down for a conversation.
What I think was my favorite aspect of Wes Craven, other than writing and directing my two favorite Nightmares, the original and Wes Craven's New Nightmare, is that he wasn't just a guy who was into horror for the sake of making money, but that he was actually releasing fears, his own and others. When you look at someone like Sean S. Cunningham, creator of Friday the 13th (and mentor of Craven's), this is a guy who made horror films for a fast buck. His producing of Craven's first film, The Last House on the Left, came about because low-budget horror movies were starting to do well. He told Craven, who was itching to direct a movie, that if he wrote a horror movie, Cunningham would let him direct it. What probably wasn't expected was that Craven would actually make a movie that was almost too dark, too scary, too violent, a movie that became an underground classic almost immediately.
Craven loved cinema and understood how to scare. He saw it as cathartic and necessary. The creation of Fred Krueger is an amazing story of thought, feeling, and psychology. Breaking the mold of having a stunt person play the killer and instead hiring Robert Englund, who knew no boundaries to get the desired effect, Craven revolutionized the horror film bad guy. Suddenly they all had to have personalities, make quips, and find creative, supernatural ways of killing. A range of sharp objects and tools were no longer good enough, they had to have interesting weapons or a cool new way of killing.
Then in 1994, Wes Craven's New Nightmare just knocked the whole block castle down. It's a shame it didn't do better business at the box office, but the movie is, I think, a masterpiece. He asks important questions. Do horror films negatively impact their viewers? What about the people who make them? This line of questioning is woven throughout his Scream movies.
Wes Craven was 76. He was an old man who lived a great life. This doesn't stop my sadness. A Nightmare on Elm Street is up there with Star Wars as movies that shaped me. Knowing that he will never make another movie, never impart more of his wisdom, and never scare the hell out of me deeply saddens me.
"Some people ask why people would go into a dark room to be scared. I say they are already scared and they need to have that fear manipulated and massaged. I think of horror movies as the disturbed dreams of a society." — Wes Craven
I'm sure that I tried to watch David Letterman on TV before August 30th, 1993. By that date, I was six days into being 16 and I'd been suffering from insomnia (or poor sleep habits, either/or) since I was 9. This means that I would've tried watching Late Night with David Letterman at some point, and I faintly remember doing so. Trying, that is. Just as I tried to watch The Tonight Show Starring Johnny Carson. I mean, all you heard about back in those quaint days of the 1980s was about how Johnny Carson did this, or said that, and then there'd be reminiscing by the adults in the room. Mom would mention the Potato Chip Lady. Grandma would chime in that Ed McMahon was "a bullshit artist," but then reminisce about something Carson did. Carson was too damn old for me, though, between 9 and 14, and Letterman…I don't know. There was something off-putting about him at that time in my life. And he stood too close to the camera. I'm sad to say that my first introduction to the late night talk show was The Arsenio Hall Show.
When Hall's show premiered in January 1989, I was 11. I didn't discover it until later that year, I think. I'm sure if I did research of who appeared on his show, and when, I could come up with a more accurate time, but who really has that kind of time? He's not the topic of this story. The topic or not, Arsenio Hall's show was cool. It had music that I liked, humor I liked, and was on at 10 PM on channel 64. That was the Fox Channel affiliate out of Providence, Rhode Island. (The show also aired at 11 PM on channel 25, the Boston Fox affiliate). Arsenio was speaking to me, it felt. Far more so than Johnny Carson. And as far as that Letterman guy with the gap between his teeth, weird hair and eyes…why's he standing so close to the TV?!
Though I had many good times with Arsenio, by the time 1993 had come, I wasn't watching nearly as much. I was still watching, but not as often. I was interested in the Late Night Wars from afar, though, and had been since 1991. In June of 1991, NBC announced that Johnny Carson would be retiring and that Jay Leno would be his replacement. To me, Jay Leno was the Doritos guy with the chin, who appeared on TV a lot and was supposed to be funny. He even made a buddy cop movie with Mr. Myagi himself, Pat Morita. You don't remember the movie? That's because it was a buddy cop movie starring Jay Leno and Pat Morita! The movie had aired on Cinemax and it always seemed to be on when I was looking for something to watch. Of course, I've never actually seen the movie. But I digress…. The entertainment magazines my mother subscribed to that I lovingly read cover-to-cover were very much about the "feud" between Leno and Letterman. When The Tonight Show with Jay Leno debuted in 1992, I feel like I tried watching it but found it…well…unfunny. Leno was no Arsenio Hall, I'll tell ya! When rumors began that David Letterman was about to jump ship from NBC, the news had a field day. Again, I was mildly interested. I remember seeing video of the press conference where the news broke that Letterman had accepted an offer from CBS and would be taking his show and leaving. I remember reading about NBC not allowing their "intellectual property" to go with him and how he was going to have to change certain things.
I was interested. I don't know if it was my budding maturity, being a wise, old 15, or if it was just interest in the entertainment business, but I was interested. So on August 30th, 1993, most likely a week before I would start my junior year of high school, I tuned in to one of the CBS affiliates at 11:35 PM, and watched the very much-hyped and ballyhooed first episode of The Late Show with David Letterman. There'd been so much talk, so much analyzing, so much…mythology building, how could I not?
I was hooked.
From Paul Newman's surprise appearance in the audience; to Tom Brokaw storming onto the stage, grabbing a cue card, and announcing, "This joke is the intellectual property of NBC," and then storming off (Dave's comment: "That's the first time intellectual and NBC has ever been used in a sentence"); to his comment about how the Top Ten List will cost the show $10 million; to Bill Murray spray painting Dave's desk and taking him outside to introduce him to the people; I loved it. But, while I loved all that stuff, the thing that really spoke to me, the thing that really hooked me was David Letterman himself. At 16, I felt like a mutant. I mean, who doesn't? But I'd been bullied for a 5-year stretch. I liked to read and write, and I loved movies way more than other kids my age seemed to. I still secretly played with my action figures because the words couldn't be written down as quickly as the ideas would come. I had an unhealthy fascination with stand-up comedy. And I had a sense of humor that those around me called "witty," "warped," "weird," and "unfunny." I was also super sarcastic and was always in trouble for that at home. And here was David Letterman making jokes that only one person in the whole room was actually, truly laughing at: himself. Through the magic of TV, I was laughing, too. I got it.
Between 1993 and sometime in 1996/1997, I watched Dave every night. During my senior year in 1995, the National Honor Society took a field trip to New York City and I went to the Ed Sullivan Theater and had my picture taken in front of the marquee. When I got home, I sent for tickets and in August 1995, I went to New York to see The Late Show. I talked to Rupert Gee. I saw Van Halen (with Sammy Hagar) perform. Most importantly, I saw David Letterman. He was standing as close to me as the oven is to my right. Ten feet? I sat right behind then-executive producer Bob "Morty" Morton. In one shot of Morty, you can see a Star Wars baseball cap. That's me. Unfortunately, except for the performances by Van Halen, the show kind of sucked. I was thrilled to be there, and still remember it fondly, but it wasn't Dave's best. Hugh Grant had been arrested with a prostitute earlier that summer and his first public appearance to promote his first big Hollywood movie Nine Months had already been booked…on The Tonight Show. Jay Leno scored his first #1 night since Letterman began his run on CBS and he never let it go. Well, except for when he let it go.
Anyway, The Late Show with David Letterman was just what I needed, just when I needed it. I became obsessed with the show and with David Letterman. And with late night TV. I loved Bill Carter's phenomenal The Late Shift, which documented the whole Carson-Leno-Letterman fiasco. I studied how Letterman did his show. The set-ups, the remotes, the sarcasm. He interviewed people and he helped them along, but he was also fun to watch. Unlike Leno, who seemed to wait for his opportunity to throw in a joke, Letterman actually conversed with them in the time permitted by the format. He was also able to make those around him stars. From the owner of the Hello Deli next door, Rupert Gee, to the stage manager Biff Henderson, to his mother, Letterman took whoever happened by and made them a character you followed. Sure, it was partly inspired by what he saw another former NBC employee, Howard Stern, do but he found a way to make it his own, and unlike another late night host I won't mention, Letterman often praised Stern for giving him the idea to do those kinds of things.
More than all that though, I saw another mutant who was full of self-loathing doing his best. He came out each night in a nice suit, he told jokes, he had a good time, and he made people happy. I wanted to be him. Or, at least, I wanted to be like him.
I'd already begun writing by this time, and was honing my craft writing (bad) books and (bad) short stories, but I secretly wanted to either be a filmmaker or, because of Letterman, a late night talk show host. Had I been a little more courageous, I may have tried my hand at stand-up comedy with the intention of someday having my own show. And now that I see Jimmy Fallon, who is only three years older than me, doing what he's doing, I think maybe I should've attempted it. Ah, well, it is what it is. My time has come and gone and I have novels to write, oh so many novels, but Letterman is still an influence.
Unfortunately, I haven't really watched Dave in a long time.  I've seen the odd show here and there. Thanks to the Internet, I will often catch interviews a day or so after they air (especially when Howard Stern, Steve Martin, or Robin Williams was on). I watched it the night G was born in 2012, after watching the election results.
David Letterman isn't perfect. His show wasn't perfect. But I loved it. It's going to be weird in September once Stephen Colbert sits behind the desk and becomes host of The Late Show. It's going to be weird that Letterman won't be there to hear about the next morning. I think about that. The pillars of our youth begin to crumble at some point. I understand why so many people were sad about Carson's departure now. Even Leno's. Late Night TV is going to be very different. The new guard is in place. But I think it'll be good. Because when they talk about the late night host who inspired them, they don't mention Carson, and they sure as shit don't mention Leno. They all mention Letterman. Fallon, Kimmel, O'Brien…all of them. They all name David Letterman as the guy who turned them onto their paths.
Looks like there are a lot of mutants out there.
Thanks, Dave.
After the mixed and bad reviews that Superman III received, as well as the same for Supergirl (1984), Alexander and Ilya Salkind sold the film rights to Superman to Golan-Globus Productions, which were working with Cannon Films. Interested in bringing Superman back to the big screen, they approached Christopher Reeve, who had pretty much sworn off playing Superman again. They made him an offer he couldn't refuse: If he signed on to reprise his role as the Man of Steel, 1) he could help come up with the story, 2) they would greenlight any project he wanted, 3) if Superman IV were a success, he could direct Superman V. Reeve signed on.
The story came from an actual letter he received from an actual little boy who asked how come Superman didn't get rid of all the nuclear weapons in existence. For those reading this who were born after 1990, keep in mind that while the shadow of nuclear holocaust still envelops us all, back in the 1980s, with Ronald Reagan as President and Gorbachev in power of the Soviet Union, it felt like there would be nuclear war at any time. I remember being a little boy and aware of this, terrified of it. By 1987, the year I turned 10, I'd been living with the understanding that the kind-looking old man we called President was really a lunatic with a charming smile, and so was the dude with bird doo on his head. So the idea that a little boy would write the actor who was Superman for a generation of youth isn't surprising. The fact that Reeve wanted this to be the basis of the fourth Superman movie is surprising.
I saw some pretty earth-shattering movies in 1987: A Nightmare on Elm Street 3: Dream Warriors and Beverly Hills Cop II that were personal favorites. I also saw Three Men and a Baby and The Secret of My Success, because I was a big Michael J. Fox fan. Even though I wanted to see it, Superman IV: The Quest for Peace wasn't in my cards. I had to wait until it came on HBO/Cinemax.
The movie that Reeve got Menahem Golan and Yoram Globus to produce was 1987's Street Smart, which earned Morgan Freeman an Oscar nomination. As far as Superman V is concerned, well….
The Super
It's 90 minutes long.
The Kryptonite
All right, all right. I'll try harder.
The concept isn't bad. The credit for story belongs to Christopher Reeve, Lawrence Konner, and Mark Rosenthal. Moving into a direction where Superman decides to go against the rule that he should not interfere with humanity on such a grand scale was done in the first movie, but it's something that's bound to come up again and again if you're Superman.
Also, Christopher Reeve is still a real good Superman/Clark Kent. He still plays the part with earnestness and takes the character seriously. That's important. He even dyed his hair this time around. The scenes of his I like the most are at the beginning when he's on the Kent farm, just looking around. There's a scene where he's brooding on the couch of his apartment when there's a knock at the door. He looks up, surprised, and grabs his glasses. It's subtle but it never feels put-on. He's even good as he's sick from radiation poisoning (though I find this scene chilling since the makeup isn't too different from what Reeve looked like as he began to lose his hair after his accident).
The Kryptonite
The acting is pretty bad by everyone else. Margot Kidder's role is once again fairly prominent, Marc McClure returns as Jimmy Olsen (though his part is even less existent than in Superman III, where they at least gave him stuff to do other than stand in the background). Jackie Cooper is firing on all cylinders as Perry White in this one, though he seemed to have aged quite a bit in the four years between movies. Finally, Gene Hackman returns as Lex Luthor, which should be a welcome thing considering the watered-down villains of the previous installment. Newcomers include Mariel Hemingway as Lacy Warfield; Sam Wanamaker as her father, David Warfield; Jon Cryer as Lenny Luthor, Lex's nephew; and Mark Pillow as Nuclear Man. With the exception of Cooper, all the acting falls flat. Kidder should be a welcome return but the dumbing down that began with Lester's rewrite of Superman II continues here. As I mentioned, Jimmy Olsen is barely involved in this movie. The Warfields are boring, Wanamaker is the typical 1980s tycoon who cares only for money and Hemingway is the typical 1980s-spoiled-rich-girl-who-finds-there's-more-to-life-than-money (that may be the longest hyphenated title I've ever written. May be). You'd think that Gene Hackman's return would up the ante but he pretty much phones in his performance. There are maybe one or two good moments, but they're brief moments. The rest of the time he's hamming it up. Jon Cryer, one of my favorite actors of the 1980s, is horrible as the silly Lenny Luthor. Horrible. Uck. He actually calls Superman "The Dude of Steel." I know that's the writers' fault but the fact that he agreed to say it…. And don't get me started on the piece of cardboard called Mark Pillow. Maybe it's because a decision was made that he'd sound like Lex Luthor (which doesn't make sense), his acting is wooden. Or it could be that he was a terrible actor. His IMDb résumé shows that this was his only film role, and he only acted twice afterward on TV.
I think there's a good reason for the bad acting: bad script and direction. The screenplay is by Lawrence Konner and Mark Rosenthal (I've already mentioned they worked with Reeve on the story) (and now I've mentioned it again), and Sidney J. Furie directed. Now, Furie seems to have been around forever and has done some good work, but Superman IV: The Quest for Peace is not among the good. I'll be talking about the budget for the movie, which was low and seems to be the thing blamed most for the poor reviews and earnings of the movie, soon enough, but I think the small budget is only a fraction of the issue. Sure, you may not be able to have great special effects or shoot on the locations one would like, but that doesn't excuse sloppy acting, writing, or directing.
I mentioned above that this movie is only 90 minutes long. Superman: The Movie runs at 2 hrs 23 mins (the Extended Edition runs 2 hrs 31 mins), Superman II runs 2 hrs 7 mins (I'll add the Richard Donner Cut only because you may be interested: 1 hr 54 mins, but keep in mind that this really isn't a finished film, but rather as finished as it could get nearly 30 years after shooting began), and Superman III runs 2 hrs 5 mins. At 90 minutes, it's the shortest of the Christopher Reeve series. That was not the intention. The original script went much longer and there was much more footage shot. Word is that Cannon Films cut nearly 45 minutes from the film during the editing phase. Part of it was due to budgetary issues, a lot of it was because it was just bad. There are several places for more information about this, including Mark Rosenthal's commentary on the DVD and Blu Ray releases of this movie. The Superman Homepage is one such place, as is Caped Wonder. If you're interested but don't feel like going to hardcore Superman websites, then Wikipedia will do. No matter, the extra 45 minutes would've brought the movie up to 2 hrs 15 mins, the second longest movie of the series. Rest assured, having seen some of the cut material on the Superman Anthology Blu Ray of the movie (if my reading is correct, there's actually more deleted goodness on a DVD version of the movie), no one is missing anything.
And it goes back to story. As the movie opens, The Daily Planet is being bought by David Warfield, who is planning on turning the Planet into a tabloid and letting his daughter, Lacy, run it. So it pokes fun at the Rupert Murdochs of the world, as well as every other businessman who performed hostile takeovers of companies and destroyed them. As this is happening, arms talks fail and it's announced that both the United States and the Soviet Union are going to expand their nuclear weapons, which could lead to, well…BOOM! A school somewhere is watching this where two of the worst actors of the movie are. One is a school teacher and the other is the boy, Jeremy, who will write Superman despite the taunts of classmates. He wants to know why Superman doesn't just collect all the nuclear weapons of the world and destroy them. After some back-and-forth and public humiliation, Superman, Jeremy, and a crowd that includes Lois Lane, Lacy Warfield, Jimmy Olsen (I think), and many others, go to the U.N. (not the real U.N.–not even close) where Superman announces to the world leaders that he will be ridding the world of all nuclear weapons. And, just like it happens in real life, every world leader agrees to let this alien from another planet, who could kill them all with a fart, take the weapons they've spent decades and billions of dollars building and accumulating and destroy them. Meanwhile, Lex Luthor breaks out of jail with the help of his nephew, Lenny. Luthor devises a plan to stop Superman by taking some of Superman's hair from a museum exhibit, grinding it up, using some science, and launching it into the sun on one of the missiles to create…(music)…Nuclear Man! There's fighting and this and that and Superman wins and gives a speech. The end.
If you skipped over the above paragraph, or skimmed through it once you realized it was the movie's story, I don't blame you. But you have to understand that it's that kind of movie. The kind that you feel compelled to retell in detail because you're not sure it could be that bad. Watching the movie is painful at times, and it's the story. It often feels like the screenwriters took pieces from the previous Superman movies and threw them into this one because they knew fans enjoyed them the first time around. One of Superman's earlier appearances in this movie is when Clark misses the subway but Lois gets on. The driver has a heart attack and Superman has to save the train. He literally stops rescue personnel from getting to the driver to tell the crowd that the train is still one of the safest ways to get around the city. Just like he told Lois in the first movie that flying was, statistically speaking, the safest form of travel right after the helicopter she was in nearly killed her. Speaking of Lois Lane…. Remember that scene I mentioned where Clark is brooding in his apartment until a knock on the door? Well, it's Lois. They're going somewhere together and he's not ready. He takes her by the hand, goes onto his balcony with her, and they walk off the building with her protesting and screaming. He changes to Superman in front of her and she suddenly remembers Superman II. Then, like Superman: The Movie, Lois and Superman fly around. Only this time, he actually lets go and she keeps flying (more on this later). Finally, they return and he feels better. He kisses her and as she stands, out of it, he quickly changes back to Clark Kent and she awakens, having forgotten that Kent and Superman are one and the same. You know, like Superman II. Of course, Lex Luthor is back and there's a supervillain with many similar powers. There's a return to the farm in Smallville and the Fortress of Solitude with holograms. It's all familiar and so bad the second time around. There's very little original in this movie and when there is, it's bad.
Take the double date between Lacy Warfield and Clark Kent and Lois Lane and Superman. It's supposed to happen at Lacy's apartment where Lois is cooking for them. What happens in this scene is some fun slapstick for a kid, where Kal-El keeps changing between Superman and Clark Kent, doing things to trick the women so they don't know the two are the one (I wrote that purposefully confusing). I remember particularly enjoying this scene at the age of 10 but now, at 35, I find it pretty mean. Why schedule both "dates" on the same night with women who will be together? Lois needs to interview Superman, and Lacy has the hots for Clark. Okay. So why allow them to happen together? The same night, a few hours apart? All right. But together? No. Only a dick would do that. No logic.
And speaking of logic, because of the cuts made, and the poor budget, there are some ridiculous leaps from logic and science. At the end, Nuclear Man sees a picture of Lacy Warfield and decides he must have her. He goes to the Daily Planet building and lands on the street outside, because that's what a guy with super powers would do, as opposed to busting through an exterior wall. He wreaks havoc and suddenly Superman re-appears (he was nearly killed after his last fight with Nuclear Man) and shouts, "Leave her alone!" or something like that. Huh? How does he know why Nuclear Man (oh, how it pains me to write that name) is there? Well, it's in the cut scenes, which actually make things more complicated. Anyway, Nuclear Man finally gets Lacy and flies her into space. Go back, reread that sentence. I'll wait. Good? Good. Yeah, Nuclear Man takes Lacy Warfield into space sans spacesuit. You know, he takes her into the freezing vacuum of space unprotected. And Superman is okay with this. He saves her, but… Ugh. Need I go on? I know it seems trivial to be upset about her not having a spacesuit since, by all rights, even Superman should, technically, have one. I'm willing to buy that Superman (and his kind) can survive in space without a suit, fine, but not a human. Not no way, not no how. And there's the science of Lois's flying alone. It happens for a few seconds in the film (the deleted scene had her flying alone for far longer) but is ridiculous and goes against what happens in the first movie when Lois's hand slips from Superman's and she begins plummeting. And there are more instances, I'm sure, but time is running out and I still have more bases to cover.
The budget was miniscule. As I mentioned before, the budget is the thing that seems to get the most blame for the quality of the movie. That's horsepucky. Yeah, the effects suck, but they were already on the decline in Superman III. Now they're even worse. Apparently, Cannon Films had many movies in development that, for a small company, ended up hurting all the films. They simply didn't have the funds to make the movie they'd intended. Consider the costs of making the prior three movies:
Superman: The Movie – $55 million
Superman II – $54 million
Superman III – $39 million
When you take into consideration that the first films were begun simultaneously and one of the reasons that the Salkinds fired Richard Donner was that he went over schedule and over budget, it should come as no surprise that the third film's budget is lower. Most likely, that's probably closer to the budget wanted for each of the first two movies. Now, according to the Wikipedia article on the Superman series (and they give the source as Empire), the original budget for Superman IV: The Quest for Peace was $35 million. That was cut, though, due to all the other films Cannon was trying to do. The final tally for the budget of the fourth film of one of the most popular franchises of the 1980s was…(drumroll)…$17 million. We're talking low-rent Superman in a time before rampant digital effects. Still, that doesn't excuse poor writing, poor directing, or poor acting. Hell, let's throw the editor under the bus, too. Poor editing. The reason the budget was probably cut wasn't only because of all the other movies Cannon was trying to make at the time, but probably because the Powers That Be saw the script, saw some of the crap that was coming in from dailies (like the first Nuclear Man. Yes, there were originally two. The first one is like Bizarro and is destroyed the first time he fights Superman), and said, "Hells no!"
After the Battle
Look, I could keep going. I'm at nearly 2,800 words at this point, though, and you want to go back to your life. Needless to say, this movie is bad. The only charm this movie has to offer is that it's so 1980s. When I did a similar essay on A Nightmare on Elm Street 2: Freddy's Revenge, another movie I hate that comes from a much-loved franchise, I mentioned one of the only redeeming factors of the movie is its 1980s charm. The same can nearly be said about this movie. The shoulder pads, Nuclear Man's hair, the corporate greed thing as well as the nuclear arms thing–these all give the movie some charm, but it's taken 26 years.
As a 10-year-old when I watched it on HBO/Cinemax, I was shocked by how bad it was. Yeah, some of it entertained me, but most of it was bad. My opinion on it hasn't changed in that regard, and has only become more venomous. I never understand how people who get the ability to take the reins on such a good franchise would hurt it so much. I know that wasn't anyone's intention, but it still angers me. Maybe it's that inner-9-year-old who still dreams of being a filmmaker, but when things go so wrong like this, it gives me pause and makes me angry. Give me the keys to the goddamn car and let me drive! Alas, that will not be.
Due to the failure of this film, the Superman franchise died. There was always talk of the possibility that maybe, possibly, someone would come along and rejuvenate the franchise. That Christopher Reeve would don the blue spandex and red cape and fly once again. But you and I know that would not happen. You and I know that it wasn't Kryptonite that would kill this Superman. It was almost 20 years before Superman would fly across the Silver Screen again, and my, how things changed in that time.
One Last Word
If you've been reading these essays since the beginning, then you surely noticed that I mentioned Christopher Reeve's performance in each of his movies. I struggled about whether or not I should do so. After all, death tends to sweeten such a performance. The thing is, that's not the case here. Reeve was a great actor who never really got the credit he deserved in his screen career. His comic timing was great, his energy always came through, and he was classically trained and able to do drama. His way of speaking his lines and his acting was unique. I sometimes think about what would have happened had he not fallen off that goddamn horse in 1995. I like to think he would've had a career upswing sometime in the 1990s, one that would've brought him along to us today. It looks as though his career was already on an upswing when the accident happened.
The thing about Christopher Reeve as Superman was that he was always approachable, and I think that's because Reeve himself embodied much of that same spirit. Kirk Alyn's Superman was eager to fight bad guys and be Superman. George Reeves was the wise uncle. Sure, he'd fight the bad guys, but he always had good advice. Christopher Reeve's Superman was earnest, honest, and had true beliefs and morals, and was flawed. He was our brother, our friend. One of the successes of Superman IV, that I purposely waited until now to mention, is its politics. In that way, it's a brave movie. Greed, war, fear are all bad and government-sanctioned in some capacity, but Superman is able to still see the good in everyone and uses his kindness to sway others. He acts as a role model, not out of a sense of being better than us but by trying to be us. Reeve surely brought a lot of that into the role.
As a child, Christopher Reeve was a hero. Not because he was Christopher Reeve, but because he was Superman. As an adult, Christopher Reeve was a hero. Not because he was Superman, but because he was Christopher Reeve.
In 2000, I went in for an appendectomy and woke up with much more done to me. My appendix had been fine when they removed it and further exploration led the surgeon to discover that my intestine had ruptured due to undiagnosed Crohn's Disease. This led to a temporary colostomy bag. What was supposed to be "three, four months," became a year-and-a-half. During that time, whenever I'd fart in public because I couldn't stop it, whenever I'd have an issue with a colostomy bag leaking, whenever I felt bad for myself because of my situation, I'd tell myself, If Christopher Reeve–Superman–can find a way to stay positive and keep fighting, then I can get through this.
Reeve's accident happened days after I signed out of high school.
I learned of his death in an apartment I lived in a few months after my separation from my first wife. I think I cried. I don't remember. I remember, though, the feeling that this man had lived. He'd done good for others. He was…well…Superman.
Postscript
One last, brief, thing. The story of Superman IV can work. In 1998, DC Comics published an oversized graphic novel called Superman: Peace on Earth. It was written by Paul Dini and painted by Alex Ross. In it, Superman decides to rid the world of nuclear weapons. However, instead of all the nations of the world cheering him, many are offended and threaten war. It's a beautifully written and illustrated book that I highly recommend.