Blog Archives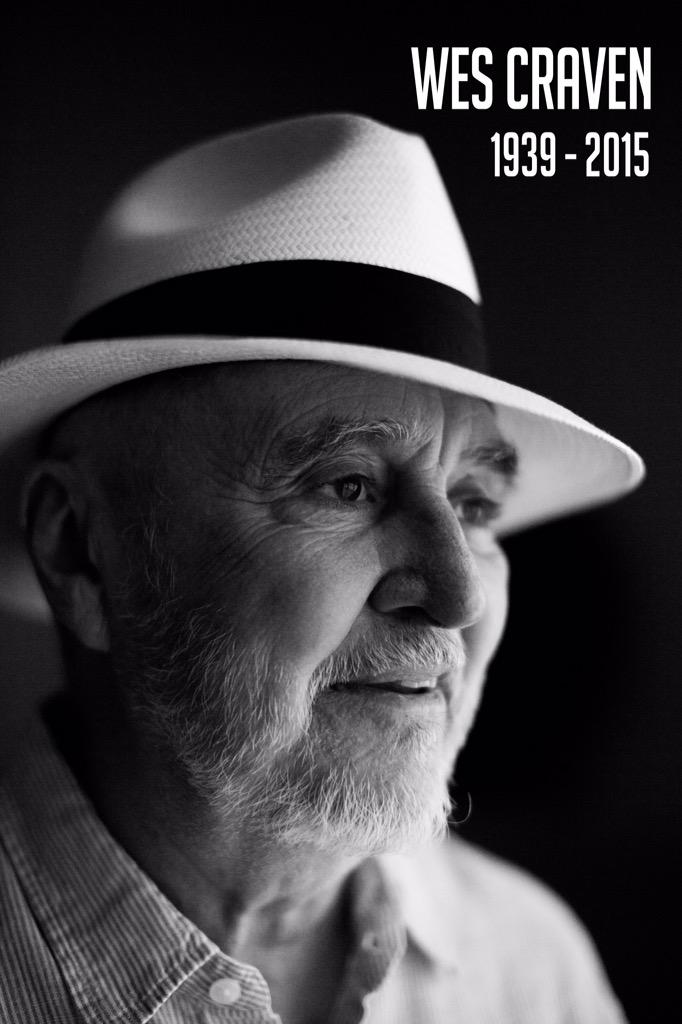 The first time I saw the name Wes Craven, it was in TV Guide, around 1986. It was in the synopsis for A Nightmare on Elm Street, which read something like, "Horror maven Wes Craven's tale of teenagers terrorized by a killer in their dreams." The fuckers gave it two stars if I recall. In the following years, his name popped up on TV more, usually for commercials of his follow-up movies: "From the creator of A Nightmare on Elm Street, Wes Craven, comes…" Shocker. The People Under the Stairs. The Serpent and the Rainbow. As I found and read Fangoria, and other stuff about horror, I learned more about him, but it really wasn't until I was in high school and I saw interviews with Craven that I learned really learned about him.
When I saw the news of his death last night, I was rocked. It came on the night before I was to start a new school year as Mr. Gauthier, so maybe I wasn't as rocked as I may have been two weeks ago, when I wasn't as stressed. Still, it was a shock and very, very sad.
I can't say I've seen every Wes Craven movie because I haven't. I feel like I only saw the original The Last House on the Left in the last eight years. I saw The Hills Have Eyes sometime in the mid-1990s. I saw Shocker and The People Under the Stairs when they first came to cable. I know I saw The Serpent and the Rainbow but can't remember when, though I think I was in high school. Deadly Friend was viewed not long after seeing A Nightmare on Elm Street the first time, but I didn't know who Wes Craven was and it was on cable as I was discovering horror. I barely remember any of these movies except the first two. Have I seen Swamp Thing? I don't know. I've definitely seen pieces of it, just as I've seen pieces of A Vampire in Brooklyn.
Truth be told, I'm really quite astonished that I haven't seen more of his movies. I really only know his creating and contributions to the A Nightmare on Elm Street series and directing the Scream movies. This upsets me.
Craven has been someone I would've loved to have met. When I found out he bought a house on Martha's Vineyard, a ferry ride away from where I live, I sometimes thought it might be cool to run into him somewhere, let him know how much he meant to me, and ask if he'd have coffee with me. I know it's crazy talk, like a deranged stalker or something, but Craven had this feel about him that he was approachable and would sit down for a conversation.
What I think was my favorite aspect of Wes Craven, other than writing and directing my two favorite Nightmares, the original and Wes Craven's New Nightmare, is that he wasn't just a guy who was into horror for the sake of making money, but that he was actually releasing fears, his own and others. When you look at someone like Sean S. Cunningham, creator of Friday the 13th (and mentor of Craven's), this is a guy who made horror films for a fast buck. His producing of Craven's first film, The Last House on the Left, came about because low-budget horror movies were starting to do well. He told Craven, who was itching to direct a movie, that if he wrote a horror movie, Cunningham would let him direct it. What probably wasn't expected was that Craven would actually make a movie that was almost too dark, too scary, too violent, a movie that became an underground classic almost immediately.
Craven loved cinema and understood how to scare. He saw it as cathartic and necessary. The creation of Fred Krueger is an amazing story of thought, feeling, and psychology. Breaking the mold of having a stunt person play the killer and instead hiring Robert Englund, who knew no boundaries to get the desired effect, Craven revolutionized the horror film bad guy. Suddenly they all had to have personalities, make quips, and find creative, supernatural ways of killing. A range of sharp objects and tools were no longer good enough, they had to have interesting weapons or a cool new way of killing.
Then in 1994, Wes Craven's New Nightmare just knocked the whole block castle down. It's a shame it didn't do better business at the box office, but the movie is, I think, a masterpiece. He asks important questions. Do horror films negatively impact their viewers? What about the people who make them? This line of questioning is woven throughout his Scream movies.
Wes Craven was 76. He was an old man who lived a great life. This doesn't stop my sadness. A Nightmare on Elm Street is up there with Star Wars as movies that shaped me. Knowing that he will never make another movie, never impart more of his wisdom, and never scare the hell out of me deeply saddens me.
"Some people ask why people would go into a dark room to be scared. I say they are already scared and they need to have that fear manipulated and massaged. I think of horror movies as the disturbed dreams of a society." — Wes Craven
I was probably a junior in high school when I first read that New Line Cinema was going to not only bring Freddy back from the dead but that none other than Wes Craven would return to rebirth Freddy. I was excited, albeit skeptical. I hadn't been a huge fan of Craven's post-A Nightmare on Elm Street movies Shocker and The People Under the Stairs but was hopeful that he would be able to rejuvenate Freddy. I was a senior by the time the movie was released.
I loved it.
I left the theater with a bounce in my step. Not only had Craven rethought Freddy and Nightmare but he made a movie that was more than a sequel. It was a film on its own; one didn't need to have seen any of the Nightmare movies in order to understand and enjoy this movie, yet, knowing at least the first movie helped this one. Also understanding where Freddy went wrong enhanced the telling.
Unfortunately, despite some of the best reviews that any of the previous Nightmares received, New Nightmare hardly found an audience (if memory serves, I was the only person in the theater; or perhaps one of two or three people). The film was released amid very little fanfare and disappeared quickly. Except for the horror magazines like Fangoria and the Fred-heads (again with that silly term!), New Nightmare may as well not have happened. Except…in the years since its release, it seems to have found its audience.
The Dreams
Wes Craven's return. For real this time. The legend is, this was the first idea Craven pitched in 1985/6 for Nightmare 3, a sort of behind-the-scenes/Freddy comes to haunt the filmmakers story and New Line Cinema passed. I can't say that I blame them and while I'm sure it would have been an interesting movie, it probably wouldn't have had the power that the movie did in 1994, ten years after Freddy's debut. Craven, who'd had some ups (The Serpent and the Rainbow) and some downs (the aforementioned movies) after the original Nightmare, seemed to be ready to explore the idea of Freddy Krueger and what his (Krueger's) success meant more than to make another Nightmare. He also seems to be as interested in the storytelling process and what the horror film means as he is to scare the shit out of you. So his script and his direction bring us a Nightmare like no other. This is a master at work, folks.
Craven's story for this movie is one of my favorites. By moving outside of the continuity (ha!) of the previous movies, he is able to dissect 1) Why the hell is Freddy Krueger and the Nightmare movies so popular? 2) Do horror movies affect their audience and if so, how? 3) For the filmmakers of such movies, where does the line between fantasy and reality lie or is it blurry? 4) Do horror stories serve a purpose other than a) making a quick buck for their producers, b) to scare people, c) giving a hard-on to immature assholes who think it's cool to watch people die gruesomely in movies? These are questions I believe all creators must ask themselves if they write scary stories. And like other creative people, Craven uses his art to look at these things. Stephen King has surely done it in almost every story he's written that has a writer as the main character, though the most successful King writers are Paul Sheldon from Misery, Thad Beaumont from The Dark Half, Mike Noonan from Bag of Bones, and Stephen King from The Dark Tower. With New Nightmare, Craven has done the cinematic version of this.
Heather Langenkamp, John Saxon, and Robert Englund. These three returning to the Nightmare playing themselves is great fun. Only an idiot would believe that the lives of these three are so intertwined that they are all so buddy-buddy, yet their acting is so good you do believe it. I'm sure that these three actors truly do have admiration for each other as well as a friendly relationship, but I don't know that I buy Langenkamp and Saxon chilling in the park, talking about life while Langenkamp's son is playing. The performances have me buy it for the movie, though, each time I see it. Langenkamp's performance trumps either of her earlier Elm Street efforts. The decade between the first movie and this one (and a better director than the third movie's) brings out a performance that should have gotten her more parts in good movies. Saxon plays himself restrained and understanding, the fatherly friend we all hope to know. Englund's turn as the uber-celebrity of the series is both hilarious and understated. I should note that the acting by the New Line execs as themselves, as well as Wes Craven as himself, are all pretty good (although Robert Shaye is pretty bad, but in a good way, this time).
Robert Englund as "Freddy Krueger." All right, he's really not Freddy this time. He's Freddy in one appearance at a talk show where Langenkamp is being interviewed, dancing around and doing the Freddy The Clown shtick. The demon that has taken the form of Freddy, though, is good. The new makeup is a streamlined, enhanced version of the burns that Freddy sported throughout the main series, though here is a more artistic rendering. The muscles underneath the broken flesh have lines coming from a center point and look unnatural and cool. The contacts that keep the entire eye white except for the tiny black pupils are creepy and work. The turtleneck sweater, leather pants, knee-high boots, and trench coat that are all tight around the Demon-Freddy's more muscular body works. The muscular body, for that matter, works. And, of course, the claw fashioned after the claw on the poster of A Nightmare on Elm Street, complete with a thumb knife gives the final touch. This is a Freddy who wants to kill you. He'll have a smartass line (I don't want to use one-liner), but he's really more about chopping you up.
The funeral scene. After Heather's husband Chase (David Newsom) dies in an "automobile accident" (he fell asleep at the wheel), there's a funeral with Heather, her son (Miko Hughes), the babysitter Julie (Tracy Middendorf), John Saxon, and Robert Englund all in attendence. Also in attendance is Wes Craven, the people from New Line, and several cast members from the previous Nightmares. Again, it's unrealistic that this would actually happen, yet it's a great touch to the fantasy of the piece. Craven has given us in this scene (as well as the examples I wrote of before) what many people believe happens in Hollywood. Everyone knows each other and they're all friends. The sweep of the mourners is so quick, you really have to be paying attention to see Jsu Garcia, Tuesday Knight, and others in the crowd.
The style of the movie. The real world scenes of the film are shot in a documentary style that compliments the story and the nightmares are more cinematic. The cinematography of the movie is strong and the special effects are good, utilizing everything that was available in 1994.
The ending. About halfway through the movie, Heather is reading Hansel & Gretel to her son Dylan (Miko Hughes) and she gets to the where the children throw the witch into her own oven. The story gets graphic and, considering the hellish few days the two have been through, Heather decides it's too much and stops the story. Dylan grabs her arm and says, "No, Mommy. Keep reading."
"But, Dylan, honey," Heather says. "It's too much right now and besides, you already know how it ends."
"But, Mommy, I have to hear Hansel and Gretel get away."
I'm paraphrasing but it goes along those lines. This is brilliant. Most people who watch/read horror stories want the heroes to survive and the monster killed. When a book like Cujo comes along, or Darabont's adaptation of The Mist, where tragedy seems to win (even though the monsters, for the most part, do not), they get upset. Yet, those same viewers will often be happy when Carrie's hand pops from the grave for one last Boo!, as Brian DePalma and his screenwriter Lawrence D. Cohen have happen in the film version of Carrie. This sort of Boo! has become a staple of the horror film and was forced upon Wes Craven during the shooting of A Nightmare on Elm Street. What this essentially tells the viewer is, "Yes, you're safe for now, but this monster is still alive and is going to come back." Perhaps it's a means of saying that evil never dies and tragedy never ceases, or perhaps it's a mistake because, essentially, there's never any closure.
The ending of New Nightmare does no such thing. The ending has Hansel & Gretel get back home, so to speak. There is no Boo!, just a FADE OUT as Heather and Dylan read a screenplay they find on the bedroom floor after their final confrontation with Freddy. The screenplay is called Wes Craven's New Nightmare by Wes Craven. Perhaps Craven has a point here.
The Nightmares
Miko Hughes as Dylan Porter, aka. Heather Langenkamp's fake son. Miko Hughes started playing Creepy Kids pretty young, as the ill-fated Gage Creed in Stephen King's Pet Sematary. Here he plays another Creepy Kid. I'm not against Hughes as a young actor–the boy was cute and seemed to have some talent–but I'm afraid Craven made a fundamental mistake that many movies make with their children in movies like this: the kid is creepy! It's not because he's taping knives to his fingers and swiping at his mother, or foaming at the mouth, or seemingly channeling Freddy, but that he looks doped most of the time.
Well, he hasn't had much sleep because of his nightmares, one can argue. True that (I'm so gangsta sometimes I gotta check myself befo' I wreck myself), but I've dealt with a child who has had little sleep and catatonia isn't in the cards, not in the few days this story takes place. The kid lost his father, though, Bill! I know, but the kid is four/five-years-old. I'm pretty sure that he wouldn't be so out of it. I may be wrong (and I'm sure you'll let me know), but that's what I'm thinking. The Creepy Kid thing is something that bothers me in movies and someday perhaps I'll write an essay about it, but I'll leave poor Miko Hughes (whom I'll still quote, "I played with Mo-ommy and I played with Ju-udd, now I wanna play with yoou!") alone here and say that a better performance could have been gotten from him. He has some very good moments in New Nightmare, but the majority of his part bothers me.
Johnny Depp was never asked to appear in New Nightmare. As mentioned above, a slew of actors from the Nightmare movies were asked to come and take part in the funeral scene. Noticeably missing, though, is Johnny Depp. In the 1999 DVD commentary, Wes Craven reveals that he didn't think that Depp would be interested in making a cameo. He reveals that when they ran into each other at a function after the movie was released, Depp told him he would have made the cameo with no hesitation. So now we will always be haunted by Freddy smashing Johnny Depp in the face with a frying pan in Freddy's Dead and long for a somber look toward his first onscreen girlfriend in New Nightmare. Lesson to be learned, kids: Always ask.
The final battle. Again, Craven fumbles the ball in the final battle. I had originally written that Craven drops the ball, but that's not quite true. The final battle in this movie is superior to the final battle in A Nightmare on Elm Street. Craven utilizes matte paintings, miniature sets, digital effects, and practical effects to pull off Freddy's labyrinth in the nightmare world, all of which is great. Heather, who has become Nancy again, has gone to the nightmare to rescue Dylan. There's some creepy stuff here. Unfortunately, a lot of it is silly. Again, I wonder if it's the old Evil-Isn't-As-Strong-As-It-Seems thing. Two of the silly sequences in the final battle are that Freddy tries to eat Dylan…alive–his mouth opens wide enough to fit the boy's head–and the long, long, long tongue that wraps itself around Heather/Nancy until it's stuck down with a knife, then it retracts like a vacuum cleaner's cord, leaving a snake-like forked tongue. This rubbed me wrong back when I first saw the movie and it rubs me wrong now.
The Morning After
Wes Craven's New Nightmare is really not a sequel to A Nightmare on Elm Street. Had it been made twenty years later, it probably would have become an instant classic (of course, the story might have to change…maybe Heather would be the mother to a teenage girl haunted by Freddy…). Craven's script and direction is superb. The film is a minor masterpiece in horror cinema and rivals the first Nightmare in many ways. The questions that Craven asks about the responsibility of the creator of horror stories are serious, important ones. His commentary on 1980s horror is also pretty important. By cheapening the monsters like Freddy Krueger, by diluting them and turning them from our worst enemies to the friends we can look forward to seeing once a year, the horror genre is cheapened. It becomes a sort of fun way to see terrible things happen to pretty people. The doctor Heather must answer to when Dylan is admitted to the hospital, played frustratingly well by Fran Bennett, is the voice of the censors and those who do not like and do not understand why some horror can actually be called art. She accuses Heather's work in the Nightmare movies (and, in essence, Wes Craven, Robert Englund, et al) of being hazardous to children.
A good horror movie, a good horror novel, doesn't just scare us but also mixes a real idea into the ingredients, just like any good book or movie does. Freddy Krueger acted as a way for people to release the stress for people living in the late twentieth century. Why was there a horror boom from the late 1970s through till about 1991/92? Because people were scared. The Soviet Union, the threat of nuclear warfare, AIDS, the results of the 1960s/1970s social movements that had changed the way things were (most often for the better, but whenever anything changes–for good or for ill–new fears surface), high inflation without higher pay, the old ways slowly dying as newer, sleeker ways came in–it was a hectic, scary time. The horror movie/novel and characters like Jason Voorhees, Leatherface, Michael Myers, Chucky (consumerism gone mad, folks), the Cenobites from Hellraiser, Cujo, Christine, and, of course, Freddy Krueger helped encapsulate that. In 1994, under a President who wasn't as scary (despite what the Right would have had you believe) as Ron Reagan, Wes Craven was willing to look back and willing to tell us why Freddy worked and why he stopped working.
The themes that carried Craven through New Nightmare would be revisited two years later when a young screenwriter by the name of Kevin Williamson sold a script called Scary Movie to Bob Weinstein at Dimension Films and they approached Wes Craven to direct. Over the course of shooting, the movie would be renamed Scream and helped rejuvenate the horror film for a bit, straight through one very good sequel, one good sequel, and one shitty "Why bother?" sequel. But it started here with Freddy, with Wes Craven's New Nightmare.
It would have been a bad choice for him to revisit Freddy and try to do an in-continuity movie (shit, those who made in-continuity movies couldn't get it right!). This settles the argument. Even though New Nightmare is often lumped together with the other sequels, it really is so much more than that. Yes, there are a few small blunders, but the movie is worth watching and studying. It's a movie as much about storytelling as it is about dreaming, though one could argue that storytelling and dreaming aren't all that different.